Maca Coffee in Pakistan – Organic & Pure
Maca coffee pakistan is an increasingly popular drink that blends the energizing effects of coffee with the health benefits of maca root. It's a delicious and healthy way to start your day, and it's easy to make.
What is Maca?
Maca is a plant native to Peru that has been used for centuries as a natural remedy for various health conditions. It's a cruciferous vegetable, which means it's related to broccoli, cauliflower, and kale. Maca root is rich in vitamins, minerals, and antioxidants that can help boost your overall health and well-being.
Urdu Name
Maca coffee in Urdu is called as "مکا کافی"
Maca Coffee Benefits
1. Improved Sexual Function and Libido
This coffee has been traditionally used as an aphrodisiac and it may improve sexual function and increase libido in men. It has also been found to potentially reduce symptoms of erectile dysfunction and improve sperm count and motility.
2. Increased Energy and Stamina
Known to boost energy levels and improve physical performance, making it a great option for athletes and active individuals. It can also help reduce fatigue and increase stamina.
3. Reduced Symptoms of Erectile Dysfunction
Potentially reduce symptoms of erectile dysfunction, including difficulty achieving or maintaining an erection. This could be due to its ability to improve blood flow and circulation in the body.
4. Improved Mood and Reduced Anxiety and Stress
Apoptogenic properties, meaning it may help the body adapt to stress and reduce feelings of anxiety and depression. It can also improve overall mood and cognitive function.
5. Increased Muscle Mass and Strength
Potentially increase muscle mass and strength, which can be beneficial for athletes and bodybuilders. It may also help reduce muscle damage and inflammation.
6. Improved Bone Density and Overall Bone Health
Source of calcium and other minerals that are important for bone health. Regular consumption of maca coffee may help improve bone density and reduce the risk of osteoporosis.
7. Potential Reduction in Prostate Size and Related Symptoms
This Coffee may help reduce the size of the prostate gland, which can lead to an improvement in urinary symptoms and overall prostate health.
8. Improved Cognitive Function and Memory
May have a positive effect on cognitive function and memory, potentially due to its antioxidant properties and ability to reduce inflammation in the brain.
9. Increased Energy and Focus
This coffee is known for its energizing properties, which can help you stay focused and alert throughout the day. You get a potent energy boost that can help you power through your day.
10. Improved Mood and Mental Health
Has a positive impact on mental health and mood. It can help reduce anxiety, depression, and stress levels, making you feel more relaxed and happy.
11. Hormone Balance
This coffee can help regulate hormone levels in the body, making it an excellent choice for women going through menopause or struggling with hormonal imbalances.
12. Antioxidant Properties
Rich in antioxidants, which can help protect your body from oxidative stress and damage caused by free radicals.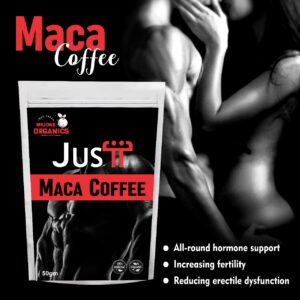 How to Make Maca Coffee? Method 1
Making it is easy. Here's what you need to do:
Ingredients
1 tsp of Mr. Jone organics Maca Coffee
Water/Milk
Coconut Oil (Optional)
Instructions
Add the coffee and two tablespoon milk, water or coconut oil to the blender.
Blend everything together for 30 seconds or until the mixture is smooth and creamy.
Pour the mixture into your favorite mug and enjoy!
Method 2
Ingredients
1 tsp of Mr. Jone organics Maca Coffee
Water
Milk
Organic Honey
Instructions
Add one teaspoon of Juzil Maca coffee to a mug
Add 1-2 table spoon of milk and stir
Keep stirring unless a thick paste is formed
Boil one cup of water or milk
Add the paste in the cup of milk if you want to make regular coffee otherwise for black maca coffee just add the paste into hot water.
Add some organic acacia honey instead of sugar. Enjoy your delicious healthy coffee
Maca Coffee Price in Pakistan
Maca Coffee Price in Pakistan is Rs. 2190 for a pack of 50grams. Mr. Jone organics delivers Maca Coffee in whole Pakistan. Doesn't matter whether its a village, town or any city in Pakistan. We offer one day Maca coffee delivery in Rawalpindi, Islamabad, Lahore, Karachi, Multan, Peshawar, Jhelum and some more other cities.
The Takeaway
Maca coffee is an excellent choice for anyone looking for a healthy and delicious alternative to regular drink. It's easy to make, provides several health benefits, and tastes great. Try it today and see how it can help you improve your health and well-being.